Product Description
This item is currently sold out.
You can reserve this item by placing an order. We will ship on a "first-come first-served" when our next shipment arrives. We do not charge credit cards until we are ready to ship.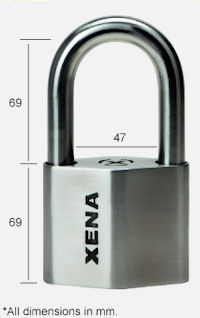 Xena XPL69 is a massive stainless steel padlock with a 16mm - 7/16" U-bar (seriously, we are not kidding, this is A BIG PADLOCK). This lock is ideal to use in combination with high security chains, 16mm and up, or on a hasp with at least a 7/16" opening.

Xena's range of Stainless Bullett Locks feature a built-in motion activated alarm system. The locks can be locked with the alarm activated or not. When moved or attacked, shock and movement sensors connected to a microprocessor trigger a 110dB alarm.

All locking mechanism and alarm components are housed inside a removable "Bullett" unit. No tools are required: the key operates both functions and provides access for maintenance, upgrades or battery changes.

Lock Features
Stainless-Steel Body
16mm U-bar
Anti-Twist Shackle
100% Corrosion Resistant
Fully Securable
Ultra Strong
Maximum Security Key
Alarm Features
Bullett-Lock Alarm System
110 dB Alarm
Key Arming
Shock & Movement Sensors
Please check the dimensions on your application. Again, this is a big lock with a 5/8" - 16mm thick shackle.
Dimensions:
Shackle: 16mm - 5/8"
Body width: 85mm - 3.34"
Body hight: 68mm - 2.69"
Inside height: 69mm - 2.72"
Inside width: 48mm - 1.89"
Specifications
UPC: 8.76846E+11

Categories