Lockitt TL88A-UCS Trailer Coupler Latch Lock
PLLK5088 - Now with our universal interchangeable cylinder
Specifically designed for trailer coupler latches on campers, flatbed trailers, utility trailers, landscape trailers, enclosed trailers, and cargo trailers.
Machining the body versus casting the body is critical because casted bodies can be easily defeated by melting the bodies with an off-the-shelf plumber's torch. A body that was CNC machined from solid aluminum can hold up to the torch test.
Also notice the inserted hardened steel rods .... you get what you pay for.
The world's best padlock design for your trailer couplers!
Guarded shackle protects the padlock from bolt cutters and grinders.
Machined from solid aluminum resists torch attacks that defeat casted padlocks!
Best in class high-security 6-pin cylinder for pick, bump, and raking attacks!
Made in USA (cylinder sourced overseas)
UPC 850038259150
PLLK5088 replaces PLLK1088A
For help understanding key options, see the Key Options tab.
How to select a lock option that best suits your needs:
Keyed Different: Select this option if only one lock is needed. If multiple Keyed Different sets are ordered, each lock will be Keyed Different. Each lock will include its own set of 2 keys.
Keyed Alike:* Select this option if you need multiple locks all keyed the same. Every key in a Keyed Alike order will be identical and each lock will include a set of 2 keys. When ordering Keyed Alike sets, please keep in mind that one compromised key can compromise your entire lock series. This can be problematic, for example, with lock sets mounted on different work vans or cargo trailers.
Keyed Specific: Select this option if you need a lock keyed to the same code for a Lockitt product you already own. Each lock will include a set of 2 keys.
Regardless of which keying option you select, all Lockitt UCS locks can later be re-keyed or have cylinders replaced at any time should the need arise.
Or, let Lockitt plan a custom Keyed Alike setup for you across a range of different lock types. Additional lead time and nominal cost are involved. Click to learn more about the Lockitt One Key service.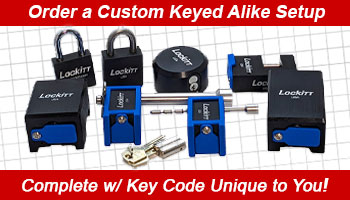 *While off-the-shelf Keyed Alike locks are a fast and convenient way to purchase several locks keyed the same, anyone buying from that same batch essentially has your key. Unlike mega retailers, Lockitt uses much smaller batches of ready-to-ship keyed alike cylinders, greatly reducing the chances that your keyed alike products will be compromised. For those requiring maximum keyed alike security, consider Lockitt's exclusive One Key service.
Dimension:
A - Body Width: 2 inch - 50.8mm
B - Body Length: 3 17/64 inch - 83mm
C - Inside Clearance Horizontal: 0.92 inch - 23.5mm
D - Inside Clearance Vertical: 3/4 inch - 19.5mm
Shackle Diameter: 9/32 inch - 7mm
★★★★★
5/5 Stars out of 3 Reviews
Scott Stanley
(SC) | May 17th, 2023
This is a very good lock. I had been looking for a secure, keyed alike, serious coupler lock and this is it! Thx for a very good product!
Note From Store Owner: We appreciate the support.
Bob
(Alabama) | March 31st, 2023
I was buying some trailer door locks and thought I would replace the coupler latch locks on my three trailers with ones that were keyed alike. Lockitt went further and keyed them all alike. Very convenient and great service.
Randy
(Tn) | December 27th, 2021
Shipped fast, fit perfect.
Note From Store Owner: We appreciate it when customers take the time to post feedback. Thank you.