Lockitt 5011A Puck Style Padlock UCS
Flat back with pre-threaded mounting holes
Now with our universal interchangeable cylinder
Under 1 lbs, our puck lock weighs about half of other solid steel versions. Use it on trailer or van double rear or side doors in combination with a puck lock hasp and keep your content safe.
This version puck lock has a flat back and is used mostly inside special hasps like our HPPL7705. The pre-threaded back allows this puck lock to stay permanently mounted in one side of the hasp. This allows one hand operation and/or eliminates having the lock in hand when open.

This lock can be permanently mounted* on our PL770 and PL775 hasps as well as many other branded hasps. *Screws are supplied with the hasp only
High Security 6 pin pick resistant Cylinder
Machined from a solid bar of Aircraft Grade 6061 Aluminum
2 keys per lock
Made in USA (cylinder sourced overseas)
For help understanding key options, see the Key Options tab.
How to select a lock option that best suits your needs:
Keyed Different: Select this option if only one lock is needed. If multiple Keyed Different sets are ordered, each lock will be Keyed Different. Each lock will include its own set of 2 keys.
Keyed Alike:* Select this option if you need multiple locks all keyed the same. Every key in a Keyed Alike order will be identical and each lock will include a set of 2 keys. When ordering Keyed Alike sets, please keep in mind that one compromised key can compromise your entire lock series. This can be problematic, for example, with lock sets mounted on different work vans or cargo trailers.
Keyed Specific: Select this option if you need a lock keyed to the same code for a Lockitt product you already own. Each lock will include a set of 2 keys.
Regardless of which keying option you select, all Lockitt UCS locks can later be re-keyed or have cylinders replaced at any time should the need arise.
Or, let Lockitt plan a custom Keyed Alike setup for you across a range of different lock types. Additional lead time and nominal cost are involved. Click to learn more about the Lockitt One Key service.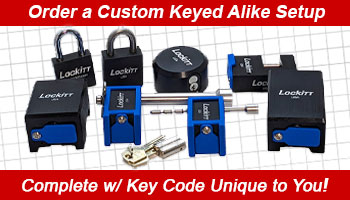 *While off-the-shelf Keyed Alike locks are a fast and convenient way to purchase several locks keyed the same, anyone buying from that same batch essentially has your key. Unlike mega retailers, Lockitt uses much smaller batches of ready-to-ship keyed alike cylinders, greatly reducing the chances that your keyed alike products will be compromised. For those requiring maximum keyed alike security, consider Lockitt's exclusive One Key service.
Dimensions:
Body diameter : 73mm - 2-7/8"
Body height :38mm - 1-1/2"
Shackle opening depth clearance : 32mm - 1-1/4"
Shackle opening width : 44mm - 1-3/4"
Shackle opening height : 15mm - 19/32"
Distance pin from back of lock : 8.5mm - 11/32"
Materials:
Lock Body: 6061 Aluminum
Cylinder: Brass
Specs:
Cylinder Type: Tumbler 6 Pin
Security pins: Yes
Rekeyable: Yes
Weight: 14.2 oz
Number of keys: 2
UPC: 850038259174